Composition No. 24 Estate in Moscow nominated for Golden Trezzini in the category "Best Project of Premium or Business Class Residential Estate".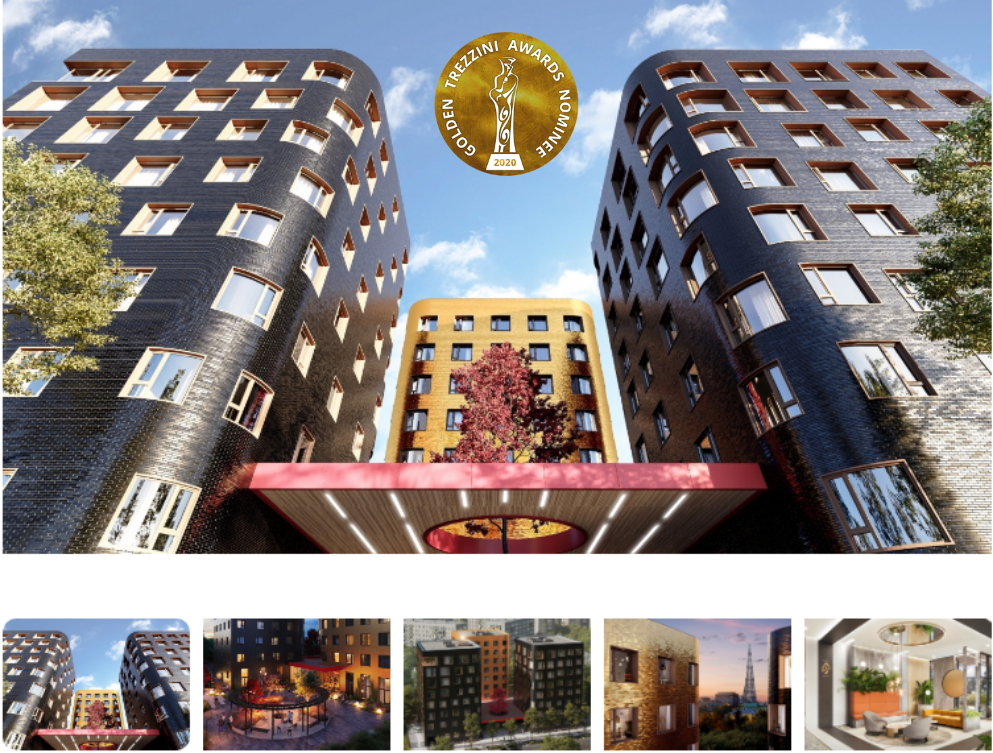 The Composition No. 24 Estate has been designed by Tsimailo, Lyashenko and Partners architectural bureau as a new landmark of the Shabolovka District, paying tribute to the history of this place and masterpieces of Russian Constructivism at the same time. This bright residential house stands on the foundation dating back to 1920s. Architects were inspired by The Last Futurist Exhibition of Paintings 0.10, featuring Malevich's Black Square.
The estate comprises three houses, consolidated with a joint art lobby and a red porte-cochere at the main entrance. The facades are finished with black glazed and golden bricks, panoramic radial windows softening the monumentality of their constructivism. The triptych demonstrates works by the brightest avant-gardists: Alexandra Exter, Naum Gabo, and Sonia Delaunay.
The project on the Awards website https://goldtrezzini.ru/en/nominees/composition24/
The Golden Trezzini website users are welcome to vote for their preferred projects via Facebook, giving them a chance to win Premio del Pubblico Award. 280+ projects Argentina, Australia, Azerbaijan, Belarus, Brazil, China, Egypt, France, Japan, Iceland, India, Indonesia, Iran, Italy, Korea, Latvia, Lebanon, Mexico, Moldova, Montenegro, the Netherlands, Norway, Oman, Portugal, Qatar, Russia, Rwanda, Saudi Arabia, Serbia, Singapore, Spain, Syria, Ukraine, the UAE, and the USA are approved for participation at the moment.
The International Golden Trezzini Awards for Architecture and Design are named after Domenico Trezzini (1670—1734), the first architect of St. Petersburg and the founder of Petrine Baroque. The Awards have been held since 2018. The motto of the Awards is "Architecture as Art." The Awards are intended to acknowledge and promote architectural and designer projects that amount to works of art.
The Honorary Chairman of the International Council of the Awards is Mikhail Piotrovsky, General Director of the State Hermitage, St. Petersburg.
Entries for the Third International Golden Trezzini Awards for Architecture and Design can be submitted at www.goldtrezzini.ru/en/ till October 15, 2020. Participation is free of charge.
The General Partner of the Golden Trezzini Awards is the State Museum of St. Petersburg History. Global Partner is Laufen. Strategic partner of the Awarding ceremony is Etalon Group. System Partner is RBI Group. Partner of a Special nomination is YIT. Official partner of the Awarding ceremony is LenRusStroy Building Corporation. Partner of the Awarding ceremony is Ganga Group. To see a full list of the Awards partners please check https://goldtrezzini.ru/en/partners-of-the-golden-trezzini-awards-2020/.
More news of the Awards:
https://goldtrezzini.ru/en/news/
Follow us on social media:
https://www.facebook.com/trezziniawards/
https://www.instagram.com/trezziniawards/
Official partners
Media partners