Roman Kapenkin, student of the Saratov State Technical University, participates in the competition with a project of a housing block.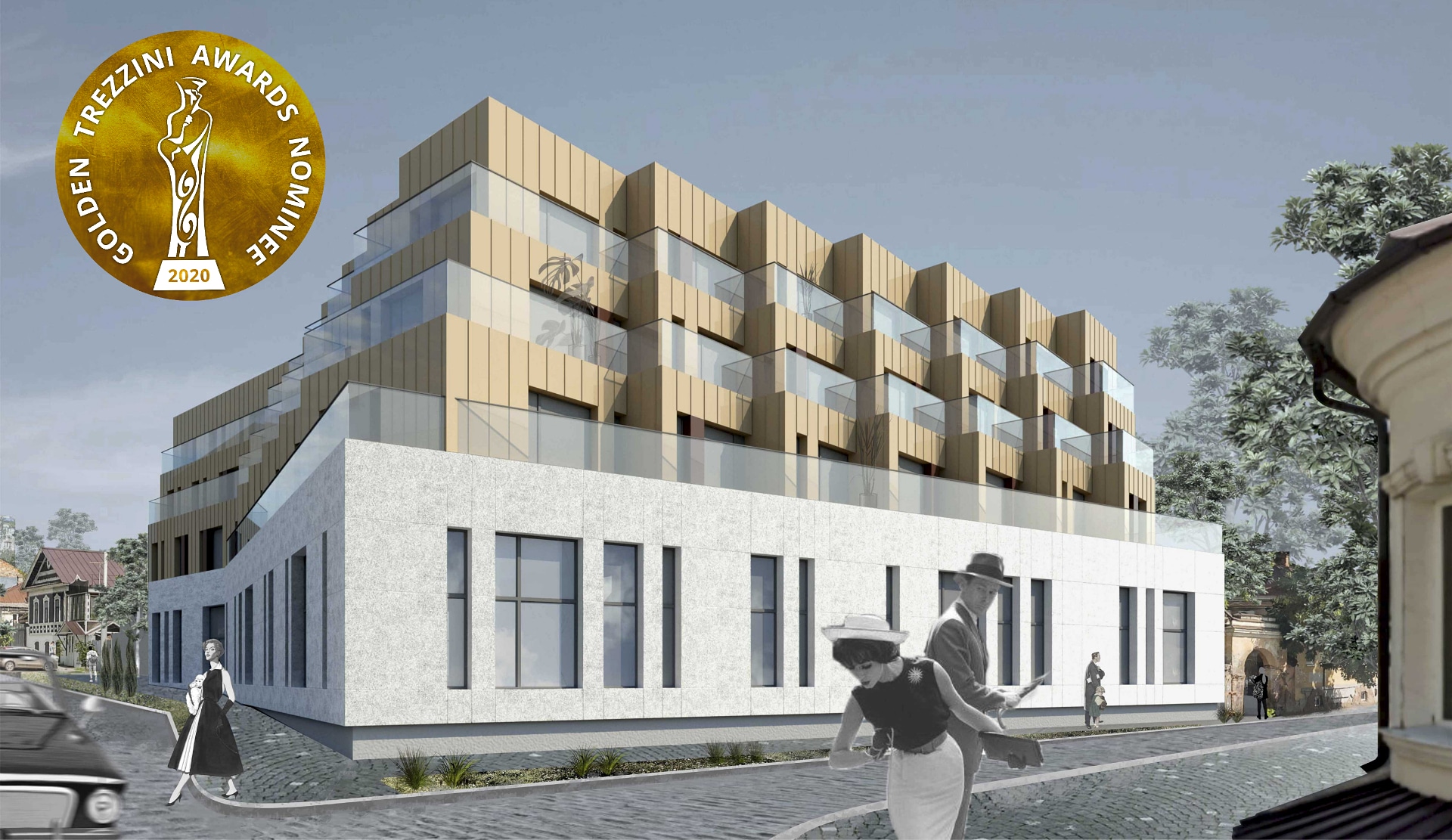 The building named 'Wedge' is located in the historical center of Saratov, along with other cultural landmarks. The project site is located at the crossroads, which to a certain extend has influenced the concept. The house comprises contrasting soothing light bottom and dynamic bright top, the latter matching in color the surrounding buildings. All the apartments within are different, with wedge-shaped terraces. As the walls of apartments are designed at an angle towards the streets, the house seems quite gentle from the outside.
The project on the Awards website https://goldtrezzini.ru/en/nominees/klin/
The Golden Trezzini website users are welcome to vote for their preferred projects via Facebook, giving them a chance to win Premio del Pubblico Award. 60+ projects are approved for participation at the moment.
The International Golden Trezzini Awards for Architecture and Design are named after Domenico Trezzini (1670—1734), the first architect of St. Petersburg and the founder of Petrine Baroque. The Awards have been held since 2018. The motto of the Awards is "Architecture as Art." The Awards are intended to acknowledge and promote architectural and designer projects that amount to works of art.
The Honorary Chairman of the International Council of the Awards is Mikhail Piotrovsky, General Director of the State Hermitage, St. Petersburg.
Entries for the Third International Golden Trezzini Awards for Architecture and Design can be submitted at www.goldtrezzini.ru/en/ till October 15, 2020. Participation is free of charge.
The General Partner of the Golden Trezzini Awards is the State Museum of St. Petersburg History. The System Partner is RBI Group. Partner of a Special nomination is YIT. Official partner of the Awarding ceremony is LenRusStroy Building Corporation. Partner of the Awarding ceremony is Ganga Group. To see a full list of the Awards partners please check https://goldtrezzini.ru/en/partners-of-the-golden-trezzini-awards-2020/.
Official partners
Media partners