A lecture hall for dentists in the centre of Moscow is participating in the competition in the category "Best Implemented Restoration / Reconstruction Project".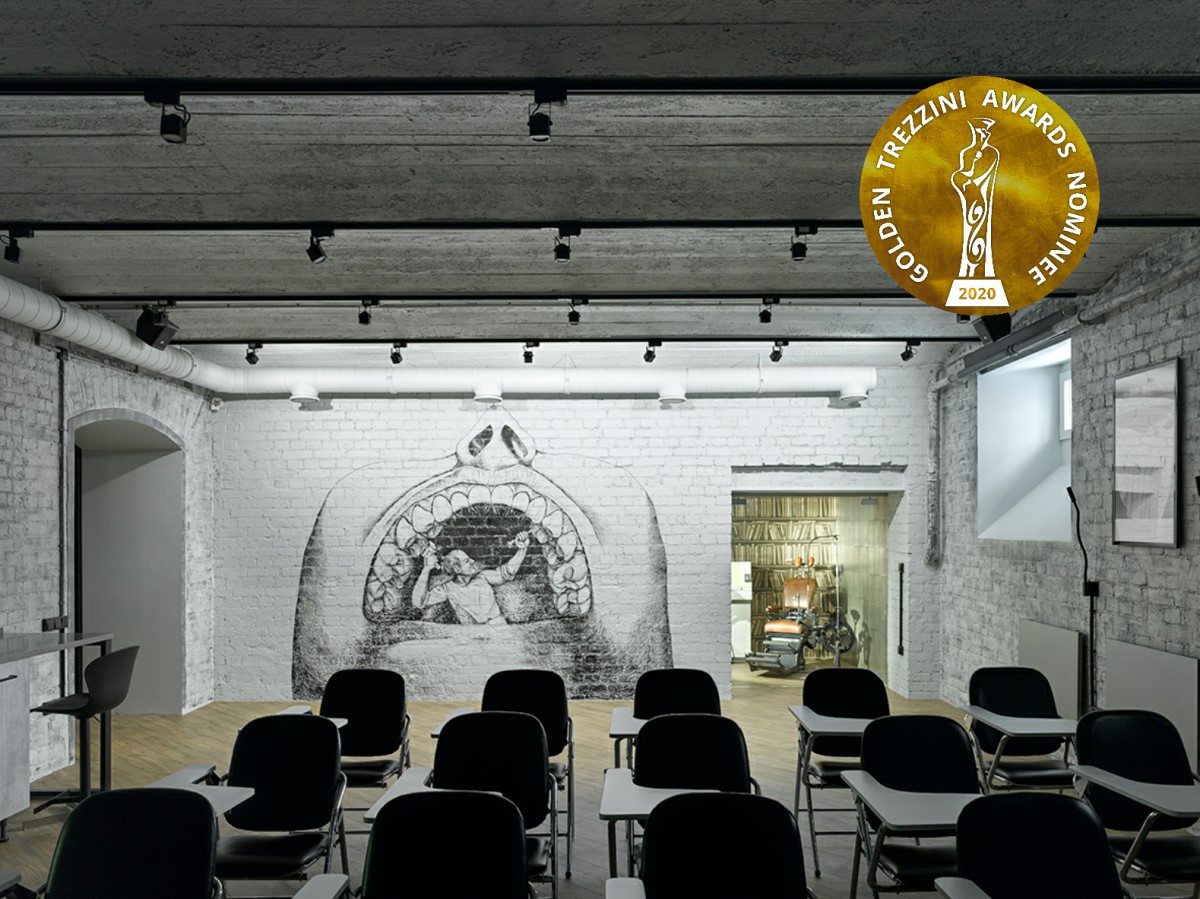 The lecture hall project designed by YNinterior Studio was implemented in a tenement building dating back to the early 19th century and located in the Chistiye Prudy district of Moscow. It took much effort to restore the premises and breathe new life into them. The key objective of the project was arranging a place for professional workshops and presentations.
The 500 sqm basement now houses X-ray rooms, medical work units, a lounge zone for visitors, a main lecture hall for dentists with a small museum and the only one in Russia computer simulation class. The focus of the project was on accurate functional zoning, ensuring that the visitors can study, work, and rest efficiently.
The founder and designer of YNinterior Studio is Yuliana Nikulina.
The project on the Awards website https://goldtrezzini.ru/en/nominees/lecture-hall/.
The Golden Trezzini website users are welcome to vote for their preferred projects via Facebook, giving them a chance to win Premio del Pubblico Award. 40+ projects are approved for participation at the moment.
The International Golden Trezzini Awards for Architecture and Design are named after Domenico Trezzini (1670—1734), the first architect of St. Petersburg and the founder of Petrine Baroque. The Awards have been held since 2018. The motto of the Awards is "Architecture as Art." The Awards are intended to acknowledge and promote architectural and designer projects that amount to works of art.
The Honorary Chairman of the International Council of the Awards is Mikhail Piotrovsky, General Director of the State Hermitage, St. Petersburg. The Council uniquely includes directors of a number of leading art museums of Russia, the USA, Italy, Germany, Austria, Sweden, and Finland.
Entries for the Third International Golden Trezzini Awards for Architecture and Design can be submitted at www.goldtrezzini.ru/en/ till October 15, 2020. Participation is free of charge.
The General Partner of the Golden Trezzini Awards is the State Museum of St. Petersburg History. The System Partner is RBI Group. Partner of a Special nomination is YIT. Official partner of the Awarding ceremony is LenRusStroy Building Corporation. Partner of the Awarding ceremony is Ganga Group. To see a full list of the Awards partners please check https://goldtrezzini.ru/en/partners-of-the-golden-trezzini-awards-2020/.
Official partners
Media partners