A project of car-park combined with public gardens is nominated for the Golden Trezzini in the "Best Project of Public Building or Facility" category.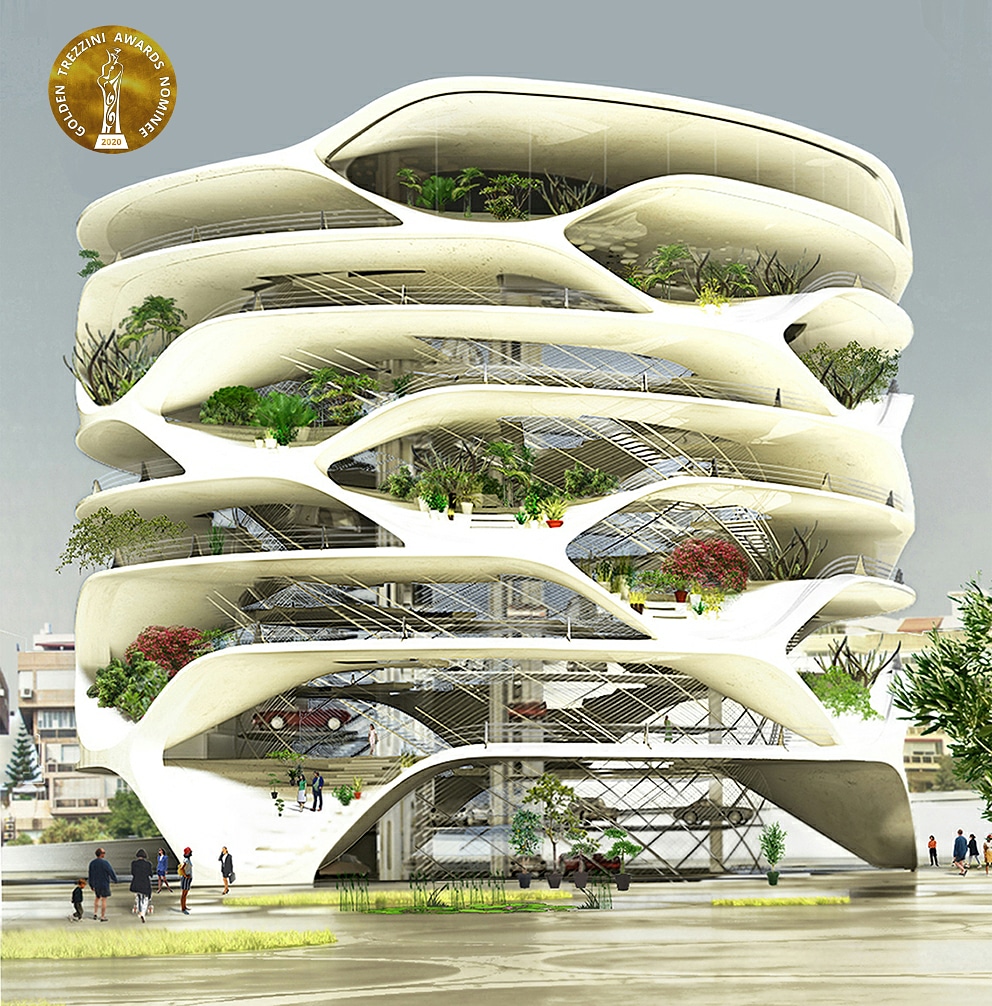 Hanging Automotive Gardens are a vertical automated car-park and public gardens.
The building is also a charging station for electrical vehicles, offers areas for growing vegetables and other farming activities in/out the city. Located next to public metro stations, it will foster the people to park their car and to transfer to the public transportation systems, to go to the city's downtown.
The project is developed by Architectures David Tajchman studio for Grand Paris. David Tajchman is an award-winning architect working at all scales and in various disciplines. He graduated in architecture in 1999 from the Victor Horta School in Brussels, and did his post-graduate studies in architectural design in 2003 at the Bartlett School in London. He founded his multidisciplinary design studio, Architectures David Tajchman, in Paris in 2009.
The project on the Awards website https://goldtrezzini.ru/en/nominees/hanging-automotive-gardens/
The Golden Trezzini website users are welcome to vote for their preferred projects via Facebook, giving them a chance to win Premio del Pubblico Award. 100+ projects from Argentina, Belarus, Egypt, France, Japan, Italy, Latvia, Mexico, Norway, Oman, Portugal, Russia, Serbia, Spain, the UAE, and the USA are approved for participation at the moment.
The International Golden Trezzini Awards for Architecture and Design are named after Domenico Trezzini (1670—1734), the first architect of St. Petersburg and the founder of Petrine Baroque. The Awards have been held since 2018. The motto of the Awards is "Architecture as Art." The Awards are intended to acknowledge and promote architectural and designer projects that amount to works of art.
The Honorary Chairman of the International Council of the Awards is Mikhail Piotrovsky, General Director of the State Hermitage, St. Petersburg.
Entries for the Third International Golden Trezzini Awards for Architecture and Design can be submitted at www.goldtrezzini.ru/en/ till October 15, 2020. Participation is free of charge.
The General Partner of the Golden Trezzini Awards is the State Museum of St. Petersburg History. The System Partner is RBI Group. Partner of a Special nomination is YIT. Official partner of the Awarding ceremony is LenRusStroy Building Corporation. Partner of the Awarding ceremony is Ganga Group. To see a full list of the Awards partners please check https://goldtrezzini.ru/en/partners-of-the-golden-trezzini-awards-2020/.
More news of the Awards:
https://goldtrezzini.ru/en/news/
Follow us on social media:
https://www.facebook.com/trezziniawards/
https://www.instagram.com/trezziniawards/
Official partners
Media partners